We love to cook. Plain and simple. We knew early on that we wanted to do a recipe book for our wedding favors, but finding a compact and cost effective way to do this was a challenge. We ultimately ended up printing them and cutting them out, which turned into a labor of love a week before the wedding.
We loved how they turned out and thought nothing would be more fitting than the title, "From Our Kitchen to Yours." The recipes include some classics from her family (the alfredo recipe) and some from mine (the buffalo chicken dip). We also included some of the favorite dishes that get requested when we bring food over for parties.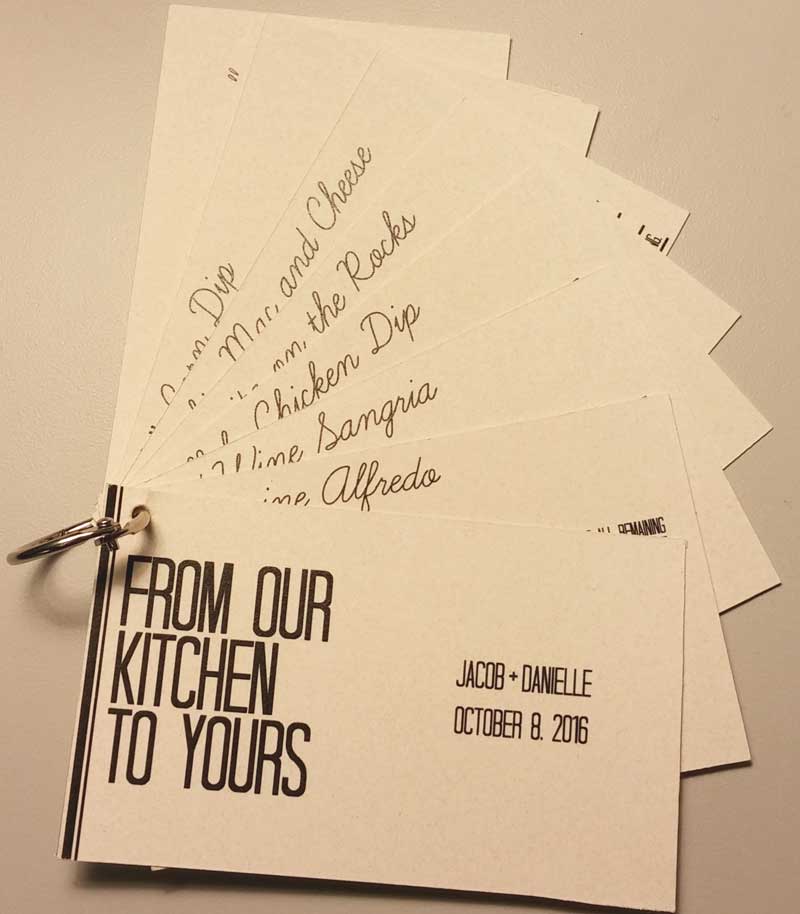 Here are the recipes for those interested.
Fettuccine Alfredo

Ingredients:

½ cup butter or margarine
1 package (18 oz.) cream cheese, cubed
1 cup parmesan cheese, grated
½ cup milk

Directions:
Melt butter in medium sauce pan on low heat. Add all remaining ingredients. Stir with wire whisk until well blended. Cook until heated through stirring occasionally.

Red Wine Sangria

Ingredients:

1 cup brandy
1 orange, thinly sliced
1 red apple, sliced
2 bottles chilled dry rioja red wine
1 cup club soda
¾ cup orange juice

Directions:
Serves 8
In a large pitcher, combine all ingredients. If not service immediately, mix together everything but the club soda. When ready to serve, top with club soda.

Buffalo Chicken Dip

Ingredients:

(2) 12.5 oz. cans of chicken
½ cup buffalo sauce
½ cup buffalo ranch
1 package (8 oz.) cream cheese
4 oz. cheddar cheese (separate)

Directions
Preheat oven to 350F. In an 8×8 mix all ingredients together and bake for 20 minutes. Top with cheddar cheese and bake for an additional 5 minutes.

Margaritas on the Rocks

Ingredients:

2 oz. reposado tequila
2 oz. blanco tequila
3 oz. triple sec
4 oz. lime juice
8 oz. water

Directions
Serves 4
Add all ingredients to a small pitcher and stir. Server over ice in slated or unsalted glass.


"The" Corn Dip

Ingredients:

(3) 11 oz. cans mexi corn, drained
7 oz. can chapped green chilies
6 oz. can jalapenos, drained
½ cup green onion, chopped
1 cup lite mayonnaise
1 cup lite sour cream
1 teaspoon pepper
½ teaspoon garlic powder
16 oz. bag sharp cheddar cheese

Directions:
Mix all ingredients in a large bowl and serve with corn chips.

Hot Onion and Cheese Dip

Ingredients:

1 large onion, chopped
3 packages cream cheese, softened
2 cups parmesan, grated
½ cup mayonnaise
½ teaspoon cayenne pepper
¼ cup chives, finely chopped
Salt and pepper

Directions:
Preheat oven to 425F. In a food processor, combine the onion, cream cheese, parmesan cheese, and mayonnaise. Process until completely smooth. Add the cayenne and chives. Season with salt and pepper. Transfer to a 1-quart baking dish. Bake until browned and puffed – about 20 minutes. Serve with crostini.

Pumpkin Mac and Cheese

Ingredients

2 cups elbow macaroni
2 tablespoons butter
2 tablespoons all-purpose flour
1 cup whipping cream
1 cup whole milk
4 oz. fontina cheese, shredded
15 oz. can pumpkin
½ cup soft bread crumbs
½ cup grated parmesan cheese

Directions:
Preheat oven to 350F. Cook pasta. Drain and return to pot. In a saucepan, melt butter. Stir in flour, ½ teaspoon salt and ½ teaspoon ground black pepper. Add cream and milk all at once. Cook and stir over medium heat until slightly thickened. Stir in fontina cheese and pumpkin until cheese is melted. Stir sauce into pasta. Transfer to ungreased 2-quart rectangular baking dish. In a bowl, combine bread crumbs, parmesan, and 1 tablespoon of oil. Sprinkle over pasta and bake uncovered for 30 minutes or until bubbly and top is golden. Let stand for 10 minutes before serving.