I am not very crafty; my wheelhouse is in the world of digital. However, my wife is incredibly crafty, she knits, crochets, paints, and regularly is working on some new project that involves glitter and hot glue. For our wedding, we had the chance to put our abilities together to create a logo of sorts.
We were inspired to create a wedding logo as we vested different wedding venues, and in talking with our would be wedding coordinator, she pointed out that some couples will have a monogram made of their initials and use it as a centerpiece above the main fireplace.
We loved that idea, but we didn't want to just purchase something, we wanted to make it special, so we got to work.
After going through a few iterations, this was our template.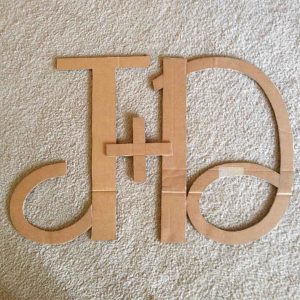 Once this was cut out, she got to work gluing wine corks and I got to work changing this into a digital format. I've been teaching myself graphic design for a while and wanted to see if this was something I could do.
For anyone with graphic design experience, I'm sure this seems like a simple task, but having never done anything like this, I wasn't sure what to expect.
While it wasn't as simple as opening up Illustrator and doing an image trace, I was able to clean everything in Photoshop and fine tune back in Illustrator.
We used this logo in our wedding favor recipe books, on our cornhole boards as a wedding book, and it looked perfect above the fireplace.